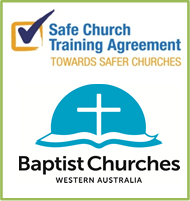 We are a SAFE Church
As a member church of the Baptist Churches Western Australia, we agreed to adopt the Safe Church Baptist Churches Western Australia (BCWA) recommendations in 2010. It is important to us that we offer the safest possible leadership and environment for those who lead our ministries and for those they lead.
These recommendations ensure we are diligent in screening prospective leaders for our ministry programs, maintain good leadership practice and ensure all leaders working with children (under 18) obtain a Working With Children Check, National Police Check and attend Safe Church training.